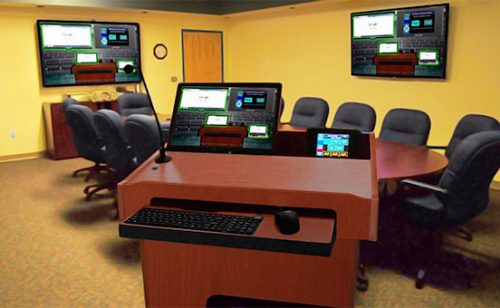 Finding Your Just Right, Part 5
As we wind down our journey with Goldilocks through the maze of custom AV design options, will she finally discover her "just right" solution?
In previous blogs we've discussed the ups and downs of various methods of developing a just right AV solution: the Build-it-Yourself way, the Design/Build way, and the Consult-to-Bid way. At last, Goldi can lose those three bears and find herself on the path to "the Nomad Way."
It's All About Standards
The Nomad way is all about quality and standards – solutions that are tailor-made to meet the exacting needs and requirements of the buyer.
All Nomad AV systems have the advantage of being standardized in format with pretested, compatible components. Nomad solutions can be decked-out with qualified options to specifically fulfill the needs required of the requestor. That means you won't get any surprises AND you will get a functioning, final AV system that meets your vision and requirements.
Nomad offers nearly 100 qualified options for your AV system, which in turn compounds to over 7 BILLION working combinations. All of these options meet the demanding, rigorous standards of Nomad to provide buyers with high-quality, proven AV systems. It is our standard practice to test all components for reliability and compatibility – the just right combination for components to work together and function properly.
We hate to be the "bear"-ers of bad news, but the only possible downside you may experience with the Nomad way is if you have a brand preference regarding components. Based on our extensive research and experience, you may not be able to spec them into your system due to incompatibility and/or the limited space of a Nomad footprint. Any deviation from standardization requires careful consideration; however we are always open to considering new components and ideas that could become qualified options.
Integrators and DIYers know nothing can be more frustrating than building a system, only to find at the end it doesn't work due to unforeseen compatibility issues. (Just like Goldi, who tried out the bears' chairs and beds and found them incompatible.) With nearly 20 years of AV experience, Nomad removes that obstacle and provides the just right combination of customization and standardization.
This just right combination of components leads to a user-friendly, consistent AV system. With thousands of systems in operation, users and IT professionals who work with the systems can count on being able to walk up to a system and easily operate it. As a result of 20 years of feedback, Nomad has taken tried-and-true comments from customers and incorporated those into making reliable and robust AV systems.
The Final Word on the Story
If all this sounds too good to be true, wait – there's something more!
You can try out a Nomad system, before you buy it, with an on-site demonstration that allows you to see, touch and experience it. That way you'll know exactly what you will be getting.
Additionally, Nomad isn't like a typical AV system integrator. We won't deliver a system and then simply disappear. You will have access to attentive customer service, superior online training available 24/7, and a 5-year warranty—all at no extra charge. This is no fairy tale, but there is a happy ending.
Thank you for sharing in the journey of evaluating custom AV design options! There is a better, just-right AV design process that will minimize risk and bring you that happily ever after. Contact Nomad now to discuss your AV system requirements and learn why the Nomad way is the answer to your just right AV needs.